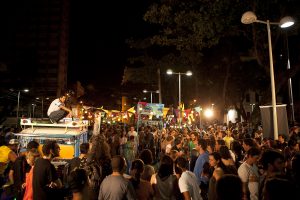 Some exciting news from Creative Producers International!
We are very happy to announce the commission of seven major new artist-led projects from CPI that will be delivered in the summer/autumn of 2019.
In the summer of this year we launched a call for applications from our talented cohort of Creative Producers to a competitive Investment Fund of £60,000. Our participants were given the opportunity to bid for up to £10,000 from the fund, securing additional match funding, to deliver a creative intervention in public space, that will provoke, inspire and engage people in a conversation about change in their city.
These projects will leave a significant legacy for Creative Producers International by:
capturing the attention of stakeholders and delivering new audiences
catalysing new communities of creative practice
strengthening relationships between Producers and funders/city authorities
contributing evaluative evidence about the role of art and culture in city development
exploring the potential of new technology for meaningful interaction with publics
The successful projects all embody the core aims and values of the Creative Producers International, and each are dedicated to inspiring real city change.
This change looks very different in each of the Producers' contexts – here is a brief glimpse of what to expect next year:
Anel Moldakhmetova, Almaty
Anel will produce a series of cultural interventions in underused public spaces throughout Almaty, developed in collaboration with local communities and staged on a mobile pavilion created by local architecture students. Her aim is to empower citizens to take agency over the future of their city and provide real evidence to decision makers of the value of democratic participatory design for transforming urban space and creating lasting change.
Karishma Rafferty, London (nominated for CPI by Somerset House)
Karishma will create a provocative 'lab' take-over of one of the main public entrances to Somerset House, working with artists and local people to co-create a new language around climate change. She aims to connect the people of London to their impact on the world and encourage a valuable message of sustainable living throughout the city.
Kate Stewart, Liverpool
Kate plans to produce an artist-in-residence programme, working with four disenfranchised communities across her city. Emerging creative practitioners will have the opportunity to spend three months collaborating with these communities to develop activities, events and participation projects that empower citizens, improve their quality of life and allow them to engage with culture in a safe and sustainable environment.
Louisa Davies, Stratford-upon-Avon (nominated for CPI by Royal Shakespeare Company)
Louisa will commission a dynamic piece of playable public art in public space in the centre of Stratford-upon-Avon, that will launch in time to celebrate the 250th anniversary of Garrick's Shakespeare Jubilee. This partnership between RSC and Shakespeare Birthplace Trust aims to reignite local people's engagement and intervention in their home town and leave a lasting legacy for change.
Malaika Toyo, Lagos (nominated for CPI by Lagos Urban Network)
Malaika will create an interactive installation that reimagines the traditional African village square 100 years into the future. The piece will provide a dynamic, co-created play space that encourages citizens to engage in a discourse about the changing urban landscape of Lagos and empower them to take agency in defining a more resilient, sustainable and prosperous future for their city.
Michelle Browne, Dublin
Michelle wants to revolutionise Dublin's cycling infrastructure, encouraging the development of safe, eco-friendly routes to navigate the city. As part of Velo-city, a major international cycling conference to be held in Dublin next summer, Michelle will commission three artists to work with different communities, creating performative art projects that highlight the issue and help to place it in the heart of decision making in the city.
Russel Hlongwane, Durban
Russel will challenge the citizens of Durban to engage in a critical conversation about identity and ownership. A temporary installation in a public park and a powerful piece of audio ambient literature in traditional isuZulu will encourage reflection on the city's troubled past as a way to reimagine its future, and empower audiences as dynamic agents of change.
We are thrilled to support these exciting new projects and believe in their potential to create a lasting impact for citizens and creative communities across the globe.
We will of course continue our incredible CPI journey of collaboration and exploration with our entire cohort as we enter the final year of our programme too. More from us soon.